Ook deze maand heb ik tot in de puntjes uitgepluist waar, hoe en wanneer de leukste runs van februari 2015 te vinden zijn. Hoewel januari nog wat karig wat betreft hardloopwedstrijden, begint februari er al meer op te lijken. Hoe dichterbij we bij het 'renseizoen' (stomme term overigens, hebben wij niet nodig) komen, hoe beter het aanbod. Klaar voor de leukste (run)events van februari? Let's go!
Tip: wil je absoluut aan één van de races meedoen maar is het niet meer mogelijk een (individueel) startbewijs te verkrijgen? Kijk eens op de website, meestal is er een link naar het overdragen van startnummers. Genoeg last-minute cancels!
Zaterdag 7 februari
Februariloop – Bennekom
De februari loop is dé manier om je goede voornemens van januari voort te zetten. Met afstanden van 5, 10 en 21 kilometer is er voor ieder wat wils. De route brengt je door deels halfverharde en deels onverharde zandwegen, smalle bospaden en dan weer hier en daar een verhard fietspad. Een wisselend en heuvelachtig parcours door het Bennekomse Bos. Pittig, maar dat kan jij! Je inschrijven kan hier.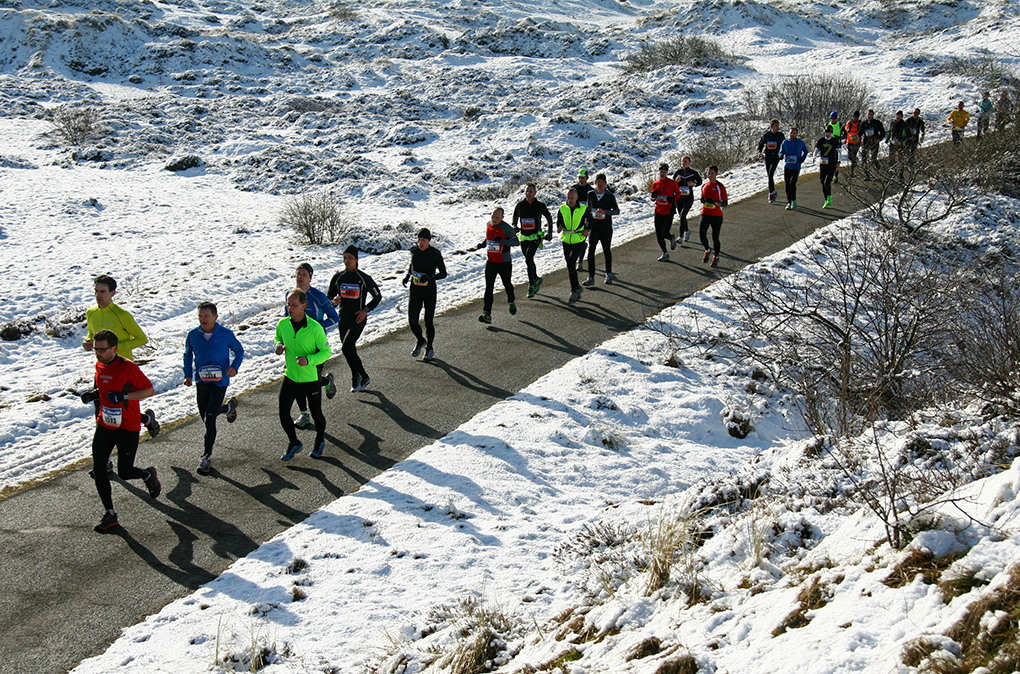 Zondag 8 februari
Groeten uit Schoorl run – Schoorl
Inmiddels is het alweer tijd voor de 38e editie van de 'Groeten uit Schoorl' run, een run waar je als hardloopliefhebber graag wilt bijzijn. Massaal trekken duizenden hardlopers naar de Noord Hollandse badplaats om het afwisselende parcours te trotseren. Waag jezelf door het bos en duingebied tijdens de 10, 21,1 of 30 kilometer en laat je verassen door the beauty of nature. Meer info? Hier!
Zaterdag 14 februari
De Valentijnsloop – Amsterdam
Gek van hardlopen? Gek op je geliefde? Gek op een feestje? Doe mee met de Valentijnsloop! Vorig jaar schreef ik al over deze knusse 5 kilometer loop, waarbij je zowel met als tortelduifjes of als vrienden helemaal in de stijl van de liefde door het Vondelpark kunt dwarrelen. Oh, enneh, de Valentijnsloop is voor zowel singles die een (loop)maatje zoeken als voor verliefde stelletjes die graag samen rennen. Wie weet ontmoet je wel jouw ware running-budy én liefde. Zou dat niet mooi zijn? Hier vind je meer.
De Texeltrail – Texel
De Texeltrail is zo'n run die je al puur en alleen mee wilt maken voor het prachtige parcours. De loop brengt je door het Nationaal Park Duinen van Texel, een gebied dat grotendeels in eigendom van Staatsbosbeheer die zorgt voor onderhoud van de wandel- en fietspaden zodat je  extra kunt genieten van het prachtige landschap. Al helemaal leuk: het parcours (14,5-25-39,5-50 kilometer) loopt deels over de "groene paaltjes routes", die alleen toegankelijk zijn buiten het broedseizoen van 16 augustus tot 1 maart. Maar wees gewaarschuwd: dit parcours is voor de echte bikkels. Ruimte, wind en water zijn kenmerken van de Texeltrail, een trailrun die vrijwel geheel over onverharde paden gaat. Bereid je maar alvast voor op een hoop zand, aarde en modder. Durf jij het aan? Hier vind je meer info.

Zondag 15 februari
De PPC loop – Leiden
De PPC loop heeft een parcours waarbij je jouw mede-lopers geregeld voor en achter je zult krijgen, de route slingert namelijk door het schitterende Cronesteyn park. Qua afstanden is er genoeg keuze: ga voor een snelle 3 kilometer, een fijne 5, een pittige 10 of een uitdagende 21.1 kilometer. Leuk weetje: de opbrengst van de run gaat elk jaar naar een goed doel. Is dat even mooi meegenomen! Meer informatie vind je hier.
Zaterdag 21 februari
Zegerplasloop – Alphan aan de Rhijn
Wel eens in Alphen aan de Rijn geweest? Als je nu ja knikt, dan komt de Zegerplas je vast bekend voor. Mij in ieder geval wel. Ik was er enkele maanden terug tijdens een high-tea uitje met vriendinnen en weet nog dat we na afloop een wandeling besloten te maken (nadat ieder zo vol zat dat we nog geen auto konden zien) en wat ik me vooral herinner, is de Zegerplas. 'Wat zul je hier heerlijk kunnen hardlopen!' hoor ik mezelf nog denken. De Zegerplasloop bestaat uit een klein rondje (5K) of een groot rondje (10K), rondom, je voelt hem al aankomen: de Zegerplas. Meer info vind je op de website.
Zondag 22 februari
Rondje Bussloo – Apeldoorn-Deventer-Zutphen
Bussloo, ooit van gehoord? Ik niet. Nou ben ik ook een echte Amsterdammer en moet ik zeggen dat ik wel vaker de iets kleinere dorpjes niet ken. Zonde, want zo zou je makkelijk een loop als de 'Rondje Bussloo' missen. En dat terwijl kleine dorpjes vaak de mooiste parcoursen hebben! De loop wordt gehouden op het prachtige recreatiegebied Bussloo, middenin de stedendriehoek Apeldoorn-Deventer-Zutphen. Het parkoers brengt je rondom de reacreatieplas en bestaat uit 1 of 2 ronden van 7,5 kilometer, aan jouw de keus of je voor de 7.5 of de 15 gaat. Meer info? Hier.
Zaterdag 28 februari
De pop up run – Amsterdam
Deze run is er één uit de Pop-Up Run series, die bestaat uit laagdrempelige, complete hardloopwedstrijden, geheel met startnummer, online uitslag, prijzen en verzorging. Zoals de naam al doet vermoeden, is de Pop-Up Run is een spontane hardloopwedstrijd die zomaar ergens kan op poppen. Ze weten het spannend te houden, want pas de dinsdag voor racing day hoor je via de nieuwsbrief als eerste de locatie en parcours. Later in de week maken ze het parcours bekend via www.popuprun.nl en de social media.  Op de start/finish plek wordt gezorgd voor water/sportdrank en (vooral) heel veel gezelligheid. Are you in? Schrijf je in via de website.
De Otterlo Challenge run – Otterlo
YES! Een obstakelrun! In december en januari was het akelig stil rondom de inmiddels enorm populaire 'Obstakelruns', maar in februari komt er weer een mooie voorbij: de Otterlo Challenge run. Afzien, doorzetten, alles geven: je grenzen verleggen. Ga voor 12 (6 kilometer) of 24 (12 kilometer) obstakels samen met honderden anderen bikkels waarna je je dikverdiende medaille in ontvangst kunt nemen. Het parcours brengt je door de bossen van Otterlo, strak aan het nationaal park de Hoge Veluwe! Tof! Meer info vind je hier.
Natuurlijk zijn er nog talloze kleine evenementen, georganiseerd door bijvoorbeeld jouw lokale atletiekvereniging, die ik niet heb genoemd. Ik screen altijd alle runs en probeer de leukste eruit te plukken. Heb ik een must-run 'run' gemist deze maand? Schroom dan niet om een reactie achter te laten, dan plaats ik hem er met liefde voor je bij.
Aan welke startlijn zie ik jou verschijnen? 
Liefs,
Lau
Dit vind je misschien ook wel interessant: