'Ik ga in Edinburgh studeren', vertelde Semra, een goede studievriendin van mij. 'Edinburgh, maar dat is toch Schotland?' zei ik verbaasd. 'Wat moet je dáár nou zoeken?'. Semra wist het zelf ook nog niet precies, maar gaan dat zou ze zeker. Nu, in december, inmiddels bijna een halfjaar later, heeft ze de tijd van haar leven en wil ze absoluut niet naar huis. Toen ik een berichtje kreeg waarin ze beweerde: 'Ik zou hier zelfs voor altijd kunnen wonen', wist ik het zeker. Ik moest en zou op bezoek. Met eigen ogen zien wat er dan zo leuk is aan dat vreemde Schotse stadje. Inmiddels is mijn 5-daagse citytrip alweer twee weken terug, maar oh wat zit de stad nog in mijn hart. Het voelde als een stapje in één van de Harry Potter films, zo magisch als alle winkeltjes en straatjes in Edinburgh eruit zagen. Heb ik je al nieuwsgierig gemaakt? Eerder kon je al wat snapshots van mijn reis vinden, vandaag deel ik mijn favoriete eet- en drinktentjes in dit leuke stadje. Want eten (en drinken trouwens), dat kunnen die Schotten wel.

1. The Southern Cross café
Dit (lunch) café is gelegen in een zijstraatje van één van de bekendere straten van Edinburgh. Bij toeval liepen we hier langs toen mijn oog viel op het bordje 'Carrot cake' en 'Gluten free caramel fudge'. Je zult begrijpen dat ik meteen naar binnen stormde. The Southern Cross café is een wat hip tentje waar je zowel alleen als met gezelschap prima terecht kunt voor een heerlijke koffie, home-made taartje of een hartige lunch. De sfeer is erg relaxt en het personeel is vriendelijk. Semra ging voor de chocolate-brownie cake en kreeg een massief stuk warme cake voorgeschoteld inclusief een bol ijs. Ik bestelde de gluten-free caramel chocolate fudge (rechts op het plaatje) en vond het stiekem dan ook jammer dat mijn stuk taart niet zo groot was als die van mijn vriendin (hebberig, hè?) maar dat bleek alles behalve nodig te zijn: het was het lekkerste, maar daarmee ook gelijk het machtigste, taartje wat ik ooit gegeten heb. Absoluut een aanrader.
63 Cockburn Street
Edinburgh, United Kingdom
2. Henderson's Vegan lunchroom
Voor mij was Henderson's mijn favourite place of all. Een ware 'food walhalla'. Het is een klein tentje in de buurt van Princessstreet, de hoofdwinkelstraat van Edinburgh, en valt in eerste instantie niet zo op. Henderson's is een typisch fancy lunchroom van deze tijd: een groot aanbod aan home-made maaltijden, cakes, taartjes, maar ook heel veel vegarische, glutenvrije en vegan producten die ze los verkopen. Je kunt hier zowel binnen aanschuifen als kiezen om het mee te nemen. Het concept is bijna gelijk aan dat van Lavinia good food in Amsterdam: achter de vitrine staan verschillende bakken opgedeeld met de lekkerste salade's van de dag. Denk hierbij aan koude (spelt)pasta's, superfood mixen, zoete aardappel met quinoa en ga zo maar even door. Je kunt zelf kiezen hoe groot je de salade wilt. Ik ging voor drie opties en koos een romige broccoli salade, een frisse rodebietensalade en een kikkererwtensalade. Ware foodporn. Je krijgt een enorm bord voorgeschoteld en zit voor de komende uren geheid vol. Toch konden ik en Semra ons niet inhouden bij het zien van het vegan gebak na afloop: ik bestelde een huge stuk carrot cake en Semra ging weer voor de chocolade. Ik heb in mijn leven veel carrot cake's geprobeerd, maar dit was geheid de beste tot nu toe. Don't miss out on it, hoe vol je ook zit …
94 Hanover Street
Edinburgh, United Kingdom
+44 131 225 2131
http://www.hendersonsofedinburgh.co.uk/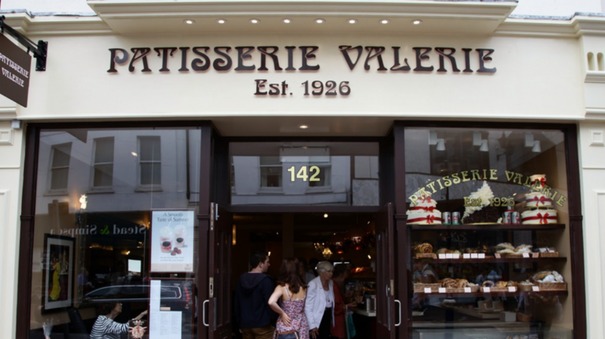 3. Patisserie Valerie
Patisserie Valerie is een winkelketen die door heel de UK te vinden is. Ik ben hier meerdere keren heengegaan omdat ik zo tevreden was over zowel het eten als de service. Het is er overigens ook altijd vol en er hangt een heerlijke geur door de zaak. Van zoete hapjes tot volwaardige maaltijden: ze hebben alles. Mijn favoriet was de Schotse havermoutpap, iets dat ik simpelweg moest proberen in Schotland. Ik bestelde de 'porridge with maple syrup, sunflower- and poppyseeds' en kreeg me vervolgens toch een bak voorgeschoteld! De pap is niet zo gezond als dat je hem zelf thuis zou maken, hij wordt namelijk gekookt in volle melk en er wordt ook wat suiker toegevoegd. Wel is hij héél erg lekker. Ik gok dat er minimaal zo'n 100 gram havermout inzat, want ik had moeite om hem op te krijgen, iets wat niet vaak voorkomt wanneer het om havermout gaat, zoals je zult je weten ;-). Ook iets wat je absoluut niet mag missen: the Scottisch breakfast. Ik waarschuw je alvast: hier zul je de rest van de dag zo'n beetje vol van zitten, mits je je bord leeg eet dan. Het bestaat o.a. uit twee gepocheerde eieren (of kies voor scrambled eggs), 2 stukken bacon, 2 gebakken worsten, 4 stukken geroosterd brood, een stuk 'Haggis' (een Schotse klassieker, het is een mix van verschillende soorten vlees, zoals wij bijvoorbeeld de frikandel kennen- vreemd, maar heerlijk!), gebakken champignons, bonen in tomatensaus en kaas. Ja, dat is inderdaad een mond vol.
25 North Bridge

,


Edinburgh EH1 1SB
+44 131 557 1533
4. Sushiya
Houd je van sushi? Dan moet je hier wezen! Het is een klein zaakje gelegen naast verschillende andere sushi tentjes, maar dit was naar mijn mening de lekkerste. Een klein tentje met heel lief personeel. En de presentatie van de sushi … Magnificent. De foto's zeggen genoeg. Mocht je in de buurt zijn, ga er dan zeker langs!
19 Dalry Road
EH11 2BQ Edinburgh, United Kingdom
+44 20 7247 4906

5. The Wee pub – 'The Smallest Pub'
Schotland zit vol met pubs, simpelweg de Schotse variant van een café. Het verschil met een pub in Schotland en een Nederlands café is toch wel de sfeer: massaal gaat iedereen rond een uur of 21:00 naar een pub om vervolgens rond 01:00 uur naar de club te gaan. In deze pubs wordt bier en whiskey gedronken tot ze erbij neervallen en is vaak live muziek aanwezig. Echt enorm gezellig. The smallest pub is, zoals de naam al zegt, de kleinste pub in Edinburgh. Er passen slechts 20 mensen in! Het bevind zich in het uitgaansgedeelte van de stad tussen alle andere pubs. Ook leuk is om een 'pub-crawl' te doen, waarbij je van de één naar de andere pub 'hopt'. Zorg er wel voor dat je je telefoonnummer op je buik schrijft mocht er iets misgaan, de kans dat je de laatste pub nuchter uitkomt is namelijk héél klein ;-)…
1 Currie Close
Edinburgh,
Ben jij wel eens in Edinburgh geweest? Of ben je van plan hier naartoe te gaan?
Volg Runninglau ook via Twitter, Bloglovin, Tumblr, Instagram en Facebook of schrijf je in voor de wekelijkse nieuwsbrief!

Liefs,
Lau