Elke twee weken geeft Marvin van www.voeding-en-fitness.nl, ons tips op het gebied van krachttraining. Deze week behandelt hij een onderwerp waar altijd weer veel vraag naar is. Let that core burn! 
Buikspieroefeningen, de meesten van ons hebben daar een haat-liefde verhouding mee. Aan de ene kant geeft het trainen van je buikspieren je een goed en voldaan gevoel, maar aan de andere kant frustreert het je dat jouw sixpack nog steeds niet duidelijk zichtbaar is. Maar zijn buikspieroefeningen eigenlijk wel noodzakelijk om een six-pack te krijgen? In dit artikel leg ik je meer uit over het nut van rompspieroefeningen en geef ik je aan aantal extreem uitdagende abexercises mee die je zeker eens kunt proberen.
Zijn buikspieroefeningen noodzakelijk?
Train jij (bijna) iedere dag je buikspieren om zo die sixpack naar voren te 'toveren'? Niet nodig! Om zichtbare buikspieren te krijgen is het noodzakelijk om je vetpercentage te verlagen. Oftewel, een passend voedingsschema voor vet verlies volgen. Door een calorie-tekort te creëren ga je vet verliezen en zal op den duur (vaak helaas pas als laatst) dat laagje buikvet verdwijnen. Pas dan komt die sixpack tevoorschijn. Iedere dag honderden sit-ups doen en steevast het rompspierkwartier volgen in de sportschool is niet dé weg naar zichtbare abs. Voeding is hierin essentieel!
Natuurlijk betekent dit niet dat je alle buikspieroefeningen hoeft te schrappen uit je trainingsroutine. Het trainen van je buikspieren heeft wel degelijk voordelen. Zo ontwikkel je sterke rompspieren en deze zorgen voor een betere stabiliteit bij andere fitness oefeningen, maar ook in het dagelijks leven. Deze verbeterde core-stability zorgt ervoor dat jouw lichaam meer kracht kan leveren en een betere balans heeft. Hierdoor word je sterker op andere oefeningen, zoals de Squat of Deadlift.
Wist je trouwens ook dat het trainen met veel 'grote' oefeningen bijdraagt aan het versterken van je buikspieren? Dit is één van de belangrijke voordelen van compound oefeningen ten opzichte van isolatie oefeningen. De ideale mix voor het zichtbaar krijgen van je buikspieren is het doen van zware krachttraining, het verliezen van vet door een verantwoord eetpatroon en dit eventueel aanvullen met buikspieroefeningen. Het uitvoeren van oneindig veel sit-ups of crunches gaat er niet voor zorgen dat jij sneller een sixpack hebt.
Probeer deze buikspieroefeningen eens!
Vind je het toch lekker om je buikspieren eens goed te trainen, probeer dan één (of meerdere) van deze oefeningen eens. Waarschijnlijk zijn deze buikspieroefeningen een stukje uitdagender dan die gedaan worden tijdens het buikspierkwartier in de plaatselijke sportschool!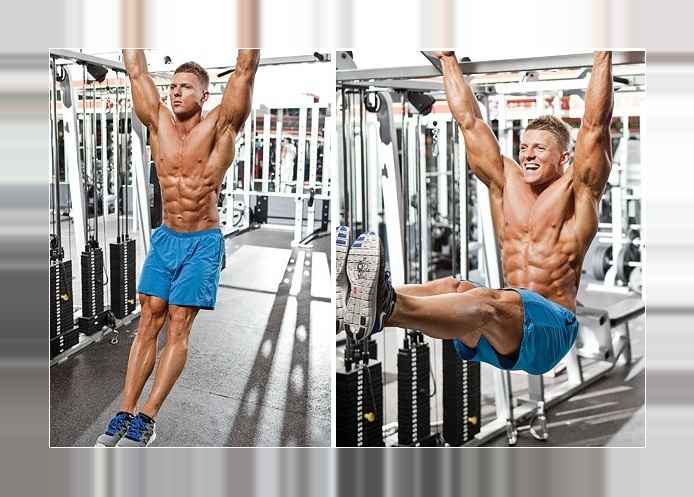 Hanging Leg Raises
De Hanging Leg Raise is een pittige oefening waarbij je vooral de onderste buikspieren goed stimuleert. Uiteraard train je met de Leg Raise de gehele rechte buikspier. Het verschil met andere oefeningen is dat je in dit geval je benen naar je bovenlichaam toebrengt, waar dit bij oefeningen als de sit-up andersom is. Daar breng je jouw bovenlichaam omhoog.
De juiste techniek voor het uitvoeren van Hanging Leg Raises leer je door de volgende stappen te volgen:
Ga aan een optrekstang hangen met je armen iets breder dan schouderbreedte.
Voordat je verder gaat zorg je ervoor dat je helemaal stil hangt en niet meer heen en weer schommelt. Een sterke core is hierbij erg belangrijk.
Span je buikspieren aan en breng je knieën omhoog. Probeer dit te doen met je benen zo gestrekt mogelijk.
Breng je knieën zo hoog mogelijk richting je borst en houd deze bovenin 1 seconde vast en span je buikspieren goed samen.
Laat vervolgens je benen gecontroleerd naar beneden zakken tot de beginpositie, zorg ervoor dat de rest van je lichaam niet gaat bewegen / schommelen.
Herhaal voor het aantal gewenste reps.
Single Side Superman Plank
Er zijn talloze varianten van de Plank die je kunt doen, maar dit is waarschijnlijk één van de meest pittige. De Superman Plank ken je misschien al, bij deze plank-variant til je een arm en een b een van de grond af. De Superman vraagt nog meer spiercontrole en balans van je dan de normale plank. Om deze oefening nog wat uitdagender te maken kun je de Single Side Superman Plank eens proberen. Waar je normaal gesproken (bijvoorbeeld) je linkerarm en rechterbeen van de grond tilt, til je nu beide ledematen aan dezelfde kant op. Door bijvoorbeeld zowel je linkerarm als linkerbeen op te tillen raakt je lichaam ineens ernstig uit balans. Om goed te blijven staan wordt er veel kracht gevraagd vanuit je rompspieren. Hoewel deze oefening er simpel uitziet is dit een zeer uitdagende oefening voor het trainen van je core-stability. Wanneer de Single Side Superman Plank te zwaar is kun je hem ook uitvoeren terwijl je op je knieën zit.
Medicine Ball Hollow Body Hold
Zo, dat is een beste mond vol… Medicine Ball Hollow Body Hold. Het komt erop neer dat zowel je bovenlichaam als onderlichaam een aantal centimeters van grond brengt en een medicineball tussen je benen klemt. De 'hollow body' positie is een houding die vooral voor gymnasten en turners erg belangrijk is. Om deze houding vast te kunnen houden is het nodig om spieren in je hele lichaam aan te spannen, behoorlijk intensief dus!
Wil je deze buikspieroefening eens proberen? Volg onderstaande stappen:
Pak een medicin bal (gewicht naar keuze) en klem deze tussen je enkels
Ga op je rug liggen en houd je armen gestrekt langs je lichaam en je benen recht naar voren
Span je buikspieren aan en knijp de bal goed vast tussen je enkels
Breng vervolgens je hoofd, schouders en benen zo'n 25 centimeter van de grond
Strek je armen richting je voeten
Houd deze positie zo lang mogelijk vast
Als deze uitvoering (nog) te zwaar voor je is kun je hollow body houding eerst trainen zonder gebruik te maken van een gewicht zoals de medicin bal.
Barbell Roll Out
Een andere pittige buikspieroefening die je eens kunt proberen is de Barbell Roll Out. Met deze zware oefening spreek je de gehele rectus abdominis (rechte buikspier) aan. Maar daarnaast zal je met deze oefening ook behoorlijk wat kracht halen uit je triceps en latissimusdorsi. Het enige wat je nodig hebt is een barbell (en wat ruimte natuurlijk!).
Neem een stang en hang aan beide kanten een schijf gewicht (5 kilo bijvoorbeeld)
Plaats de barbell op de grond voor je en ga zelf op handen en knieen zitten
Pak de stang vast met je handen ongeveer op schouderbreedte
Rol de stang vervolgens langzaam en gecontroleerd naar voren, waarbij je continu spanning houdt op je rompspieren.
Tijdens deze fase van de beweging adem je in
Trek jezelf vervolgens weer terug naar de startpositie. Ook hier houd je de buikspieren continu aangespannen
Tijdens deze fase van de beweging adem je uit
Wanneer je echt een getrainde atleet bent kun je de Barbell Roll Out ook proberen zonder op je knieën te zitten, maar startend vanuit een plank positie.
Wil jij zichtbare buikspieren? Dan is het eindeloos herhalen van simpele buikspieroefeningen niet de oplossing. Je boekt pas echt goede resultaten wanneer je jouw eetpatroon aanpast op jouw behoeften en doelen. Doe daarnaast compound oefeningen en probeer eens uitdagende buikspieroefeningen zoals de 4 die ik in dit artikel heb benoemd. Succes! J
Ga jij ze proberen?
Ciao,
Marvin,